The Monitor Control Tool is a simple utility for end users to manage their (multiple) display monitor layout
The Stratodesk Monitor Control tool has been developed to help control position and rotation of monitors, without the need to access the configuration of the end point, or the need to reboot the device for the changes to take effect and was introduced in firmware version 3.2.760 & NoTouch Center 4.4.254.
You can enable the tool via NoTouch Center in the Group settings under the display settings as shown below, and then announce the changes and reboot the endpoint.

Once the device has rebooted, the user will be able to select the configuration utility from the Taskbar, which appears as a small monitor icon, or by using the hotkey ctrl+alt+d.

Upon starting the tool, the user will be presented with a screen similar to those shown below and image may appear different depending on monitors being used and the display output type, i.e. HDMI, Display Port etc.

Firstly – Specify which monitor is to be the Primary, *DP does not necessarily indicate "Display Port" technology. This may indicate the First or Second Display output port in case of VGA.

After setting the Primary display, you may now proceed to determine Left of\Right of for physical positioning.

You can also choose to Rotate the screen orientation.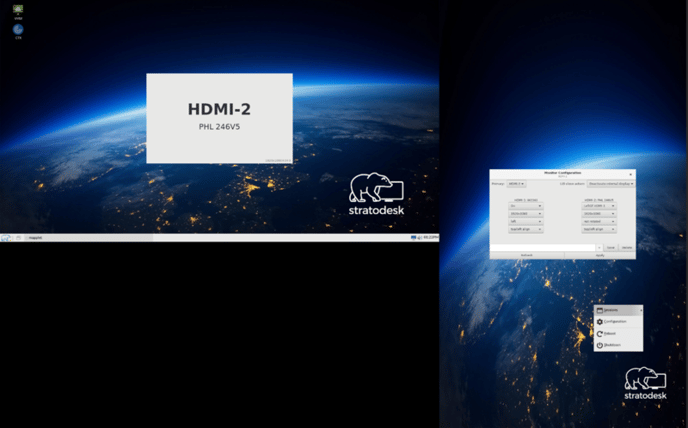 Finally, if you are using a laptop then you also have the option of controlling the LID close action which has the option of deactivating the internal display if a second monitor is being used.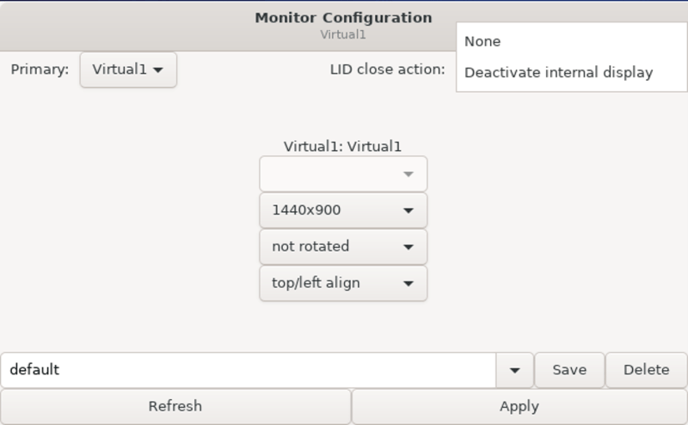 After making changes click apply and be sure to assign a name to your default display profile, and click save to permanently save the changes.
With the introduction of NoTouch Center 4.4.312 & NoTouch OS 3.2.1016, you can now create a desktop icon to launch the Monitor Control Tool.


Once the change has been added, announce the changes and reboot the device. You will now be able to launch the monitor control tool from a dedicated icon.