This article provides information on setting up Leostream Connections for use with NoTouch OS
Stratodesk makes sure NoTouch includes the latest Leostream client for Linux integrated. Whilst Leostream can broker connections to many different protocols, the only ones that are currently supported are FreeRDP & Mechdyne TGX. As Mechdyne TGX is not included in our standard EEs builds, you will need to deploy this using the Extension Module feature built into NoTouch Center. Further protocol support will be added over time.
Before you create a connection in NoTouch Center, ensure that you have created a Protocol Plan for your preferred connection. Please note that whilst the Stratodesk RDP connection show as using rdesktop it will in fact use the FreeRDP protocol which is used in Stratodesk NoTouch.
*** Leostream has dependencies for USB redirection that is only available in specific kernel modules. Please ensure you are using a kernel that supports the Leostream connection properly K508 - K517 will work with the follow exceptions. K509, K512, K516 do not support the Leostream connection***

The next step is to create the connection in NoTouch Center.
Go to Group Settings/New Connection and give the connection a name.

Next select the connection mode and chose Leostream from the drop down menu.

Next add the FQDN or IP address of your Leostream connection broker remembering NOT to add https:// as this is automatically added as part of the connection when its launched.

If you need to specify additional Leostream parameters then these can be added under the 'Leostream' section of the connection.

Once the connection has been configured, please announce the changes to the endpoints.
To start a Leostream session launch double click the Leostream icon on the desktop and enter your user credentials, and click login.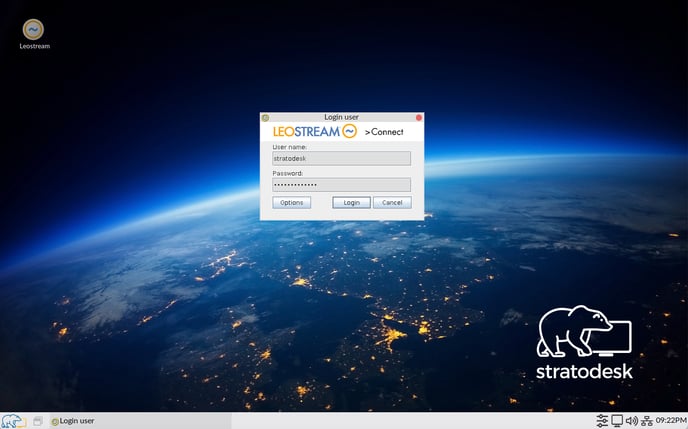 Once authenticated, you will be presented with a list of resources you have access to, and to start a session choose the one you would like start and click connect. Please note that if you only have access to a single resource then this will launch automatically.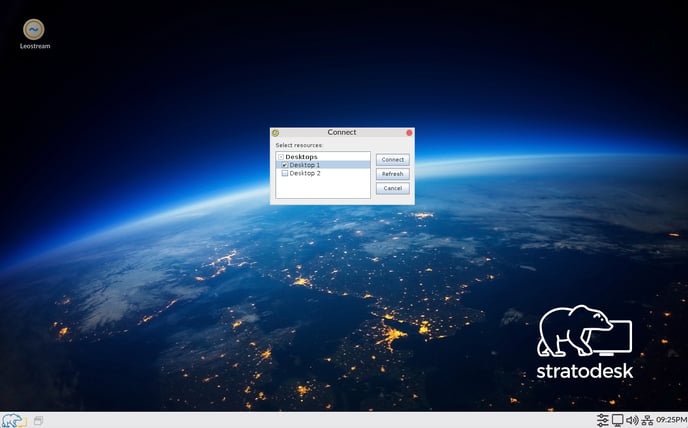 Troubleshooting
The Leostream client when launched has an options button, which has a number of benefits including being able to test the connection to the broker, which protocols have been configured, USB configuration and the ability to review the event log.