How to update NoTouch Center since it is continually providing enhanced features and security updates
NoTouch Center updates
---
This page is about updating NoTouch Center. If you instead want to know how to update the client's operating systems, look here: Firmware Update (NTC)
There are several ways of updating your NoTouch Center. All updates are - of course - non-destructive for your configuration. Nevertheless, we require that you do this before you update:
Make a backup - e.g. a VM snapshot of the machine running NoTouch Center
Read and understand the Release Notes
Normal update
---
NoTouch Center updates are distributed as .deb files and .exe files.
Stratodesk Virtual Appliance
NoTouch Center is updated using the .deb package upload mechanism.
In the VA console, select "VA Operation" in the main menu
Click on "Updates"
Scroll to the "NoTouch Center" header and click on "Upload/update .deb package"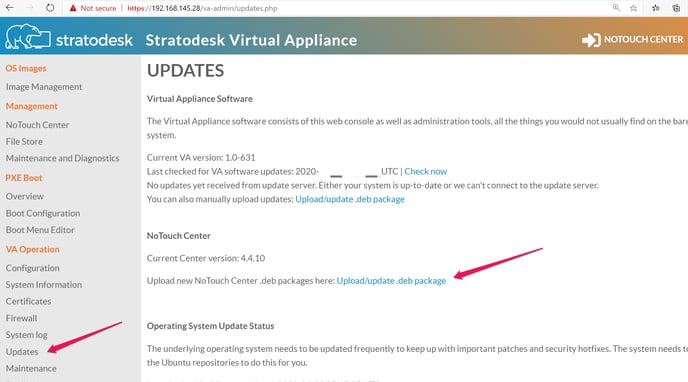 In the page that appears now, upload the NoTouch Center update file (a .deb file).
NoTouch Center will be installed and restarted. Please allow at least one minute for NoTouch Center to reconfigure itself. Do not reboot the VA immediately.

Please also see here: Updating the Virtual Appliance#NoTouch Center
Troubleshooting
---
First, always remember that NoTouch Center usually does nothing to your database during update. So your configuration is safe, even if something goes wrong.
General tips:
Check error messages displayed in the browser or in NoTouch Center logfiles in the log directory
If you open a ticket with support, please give as much information as possible (screenshots, logfiles), please include a VA support file
If you use an external database server, check that your database server is available
Stratodesk support may tell you to revert to your prior version, so be sure to have a backup of both NoTouch Center and its database available!